G&G Commerce, the operators of the
money making shopping Domeggook participated in the "Children's Easter
Celebration Concert" on the 12th of last week, in Sinchon at Yonsei Severance
Hospital.
There were 7 different gift sets presented to the children by employees
who volunteered to be a part of the event; among them were hand written
letters, sketch books, crayons, and lego chopsticks.
​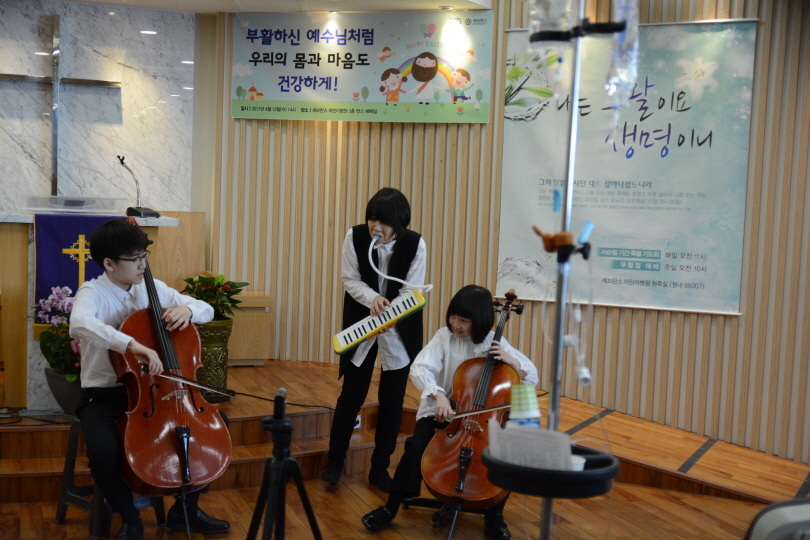 The
concert was held to convey a message of courage and hope for children and parents exhausted from having to spend day in and day out in
a hospital.
The
programs included those of cello
performances, vocal performances, and dolls and gift donation.
In
particularly
moving performance was given by, a family
team consisting of 3 members, brother
and sister Joo-bin Min, Ji-won Min and their mother.
They gave a cello duet performance that was touching and melodic.


Min
Joo-bin, who delivered a message of hope and emotion to many who
participated in the event, was able to participate in the event thanks to the support of the Korea's top art
school, Yewon School.
Yewon is an avid supporter of donation to
and participation in meaningful events.
"We participated in the event to offer a little
comfort, but we ended up receiving greater encouragement," the employees of the Domeggook said. "We want to visit more often and spend time and
share with those who are having a hard time."


"I
wanted to convey a warm heart to the children and
their
families
having a
hard time here in the hospital without losing their hope
," said
Young-il
, CEO
of G&G Commerce.